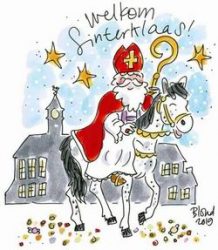 Nog een paar nachtjes slapen… maar zaterdag 20 november is het zover! Sinterklaas komt met zijn Pieten in Tollebeek aan!
Sinterklaas en zijn Pieten lopen een route af in Tollebeek, waar we geen begin of eind punt hebben. Het is niet de bedoeling om aan te sluiten bij de optocht, i.v.m. de maatregelen omtrent COVID.
Om 13:30 uur trappen we af!!
Heb jij een fantastische kleurplaat voor Sinterklaas? Lever deze in bij de peuterspeelzaal, De Sprang, Op de Wieken of bij  Attent!